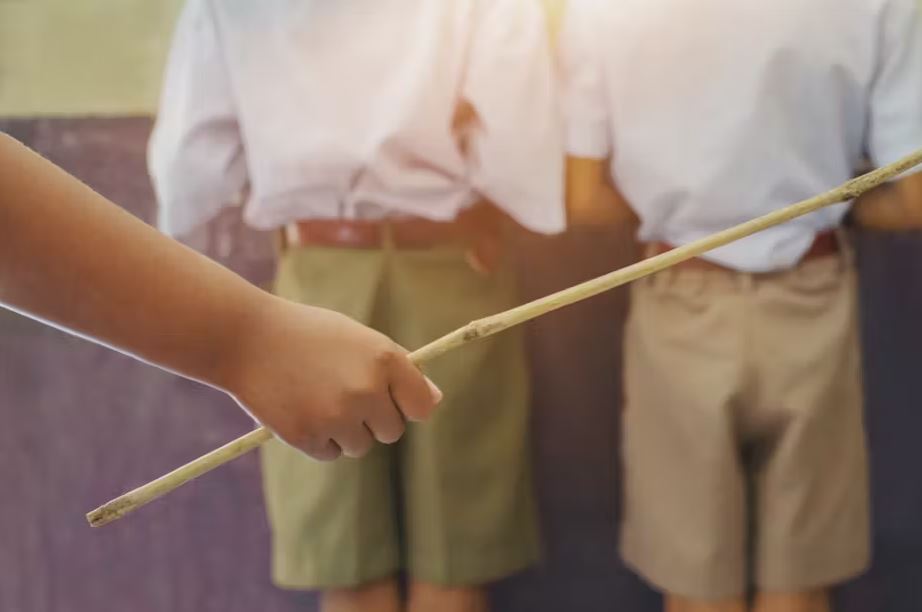 Anish Lamichhane, a 15-year-old who is a 10th grader at Bal Uddhar Secondary School was admitted to a hospital on June 5 after three of his teachers brutally beat him in a closed classroom. Due to this, he sustained serious injuries and had bruises on his back, neck and thigh that made him unable to walk.
"They hit me with a pipe and stick, then shove me to the ground and kicked me," says Lamichhane. 
According to the information received, Lamichhane engaged in an argument with fellow students, resulting in the teachers deciding to administer disciplinary action, as they deemed it to be his fault.     
Sources say Lamichhane had an argument with a few students after which the teachers decided to discipline him by beating him claiming it was his mistake.  
Similarly, on January 23, Prem Thapa, principal of Chandra Jyoti Secondary School in Ghiring rural municipality, Tanahun, punished 42 grade 10 students for failing to properly answer questions given to them in a test.
Among them, one of the students was seriously injured and was admitted to the hospital.  
Another incident took place on July 18, 2022, when Chakra Maharjan, principal of Little Star English School, harshly punished a fifth-grader for misbehaving with a teacher. The principal hit him with a steel scale due to which the student had injuries on his back and hand. 
Despite the ban on corporal punishment in Nepal, incidents like the one described are still prevalent, highlighting significant flaws within the country's academic sector. In spite of the introduction of various new pedagogical approaches aimed at enhancing students' education, the persisting adherence of teachers to traditional notions is both detrimental and in violation of the law.
Corporal punishment scenario
A study conducted in the USA shows that in states where corporal punishment is frequently used, schools have performed worse academically than those in states that prohibit corporal punishment.  
Similarly, a report on corporal punishment of children in US public schools states, "Numerous children who have experienced physical punishment such as hitting or paddling, along with other forms of severe disciplinary methods, have disclosed subsequent difficulties involving feelings of depression, fear, and anger."
According to UNICEF, violent discipline, physical punishment and bullying disrupt the education of 150 million students aged between 13 to 15 worldwide. Nepal is no exception. 
According to the Global School-based Student Health Survey Nepal 2015, over 50 per cent of students aged between 13 to 15 years reported being bullied at least one day a month. Around 40 per cent of students of the same age group are reported to be involved in a physical fight at least once a month.
Article 39 on child rights in the Constitution of Nepal 2015 has strict provisions banning all forms of abuse and violence against children, from family to community levels. It states that "no child shall be subjected to physical, mental or any other form of torture at home, school or other place and situation whatsoever."
Education experts emphasise that although the field of education has made remarkable progress in terms of educating and counselling students worldwide, teachers in Nepal are still observed resorting to corporal punishment when children fail or make mistakes.
The persistence of corporal punishment in schools, despite its known drawbacks and the evolving understanding of effective teaching methods, raises the need for discussion. Exploring the reasons why certain teachers still adhere to this traditional approach in their treatment of students becomes crucial in addressing this issue.
According to educationist, Bidya Nath Koirala, many teachers in the country are injected with the mindset that students can only be improved through punishment.
"Those teachers also used to be punished during their school days, and they think their students also need to face the same punishments if they want to improve their studies and attitude," says Koirala.  
Psychologist Gopal Dhakal agrees with Koirala.  
"There are some guardians who ask the teachers to give punish their child if they commit any mistakes. These requests from the guardians additionally provoke the teacher to punish the students," adds Koirala.
Koirala strongly believes corporal punishments are ineffective among students. They neither improve their students' grades nor their behaviour.
The challenges and solutions
One of the factors promoting corporal punishment is the traditional mindset among guardians who believe that a strict school will improve their children's studies and behaviour.
Stakeholders believe weak school management and the schooling of teachers are the factors encouraging corporal punishment. 
"School management must strictly instruct teachers to avoid corporal punishment," says DK Dhungana, president of Private & Boarding School's Organization Nepal (PABSON). 
According to Dhungana, PABSON has even asked each school to hire counsellors, and some of them have agreed to it. To ensure teachers do not indulge in corporal punishment, the organisation has also been providing training to teachers in different parts of the country. 
According to Psychologist Gopal Dhakal, teachers are prone to corporal punishment because they are unaware of child psychology and most of the teachers lack a basic understanding of child psychology.
"Punishments are temporary solutions and in the long run, it could ruin their mental health," says Dhakal.
In addition, Koirala and Dhakal highlight that a lack of research and training on modern approaches to dealing with students contributes to teachers being stuck in traditional practices. They believe there is an absence of adequate knowledge and resources in these areas as teacher resort to outdated disciplinary measures.
"Some teachers even try to overcome their frustration, which arose from family issues, by punishing the students," says Dhakal. 
In 2022, Child Helpline Nepal recorded 32 cases of corporal punishment in schools. Similarly, 10 cases of corporal punishment have already been recorded between January and June.
Child rights activist and programme officer at Children Workers in Nepal (CWIN), Sagar Bhandari urges the concerned body to immediately form a school child protection policy that would prevent teachers from practising corporal punishment. 
According to him, the local government can play a huge role in it. "There should be a mandatory provision of complaint boxes in each school with a strict mechanism to address the complaint dropped there," says Bhandari.
The post Corporal punishment in Nepal: Why is the ban ever unheeded? appeared first on OnlineKhabar English News.