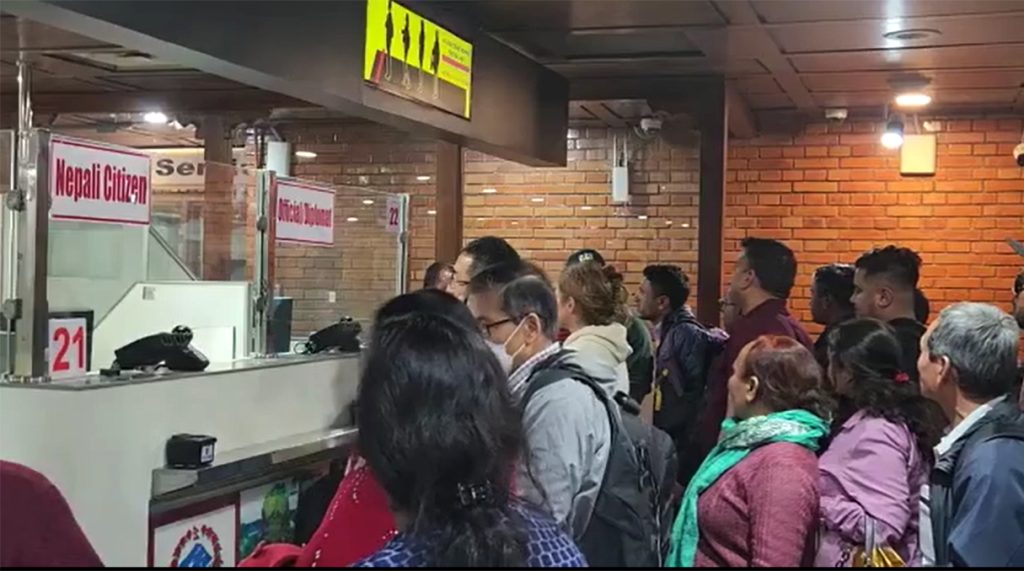 Kathmandu, July 13
The Immigration Department of Tribhuvan International Airport has sent back 117 people who were leaving Nepal for foreign employment in Kuwait.
Immigration Department sent back 101 workers going to Kuwait through Salam Air on Wednesday evening and 16 workers leaving for Kuwait through Kuwait Air on Thursday morning. Officials of the Immigration Department said their visa was suspicious. Around half of those who were returned were women.
The workers had labour permits to work in companies in Kuwait. However, during the interrogation, the immigration officers turned them back saying the visa they had did not determine where they were going to work. They believe they were going as domestic workers. Going abroad as a domestic worker is illegal.
According to Jhalakram Adhikari, Director General of the Immigration Department, they were returned after it was confirmed that there was one type of visa on their passport while the documents they had suggested they were going for domestic work which is illegal.
"Various employment agencies have been sending people as domestic workers through another medium. That is why we sent them back," said Adhikari.
He said they have instructed immigration officials to quiz people going to Kuwait more after finding many had gone to the Gulf country to work as domestic workers on a different visa.
He said the Labour Minister and Home Minister had been notified and investigations are ongoing.
The post 117 foreign employment workers leaving for Kuwiat sent back from TIA appeared first on OnlineKhabar English News.