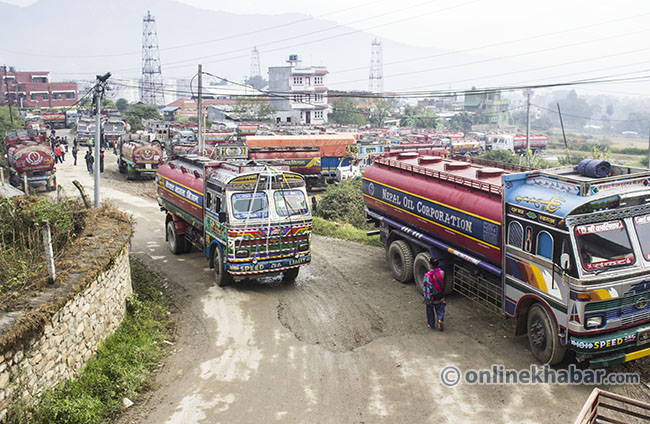 Kathmandu, July 17
The government has implemented the automatic pricing system (APS) in petroleum products from July 17. The system is being implemented once again after a hiatus of nine years.
The Nepal Oil Corporation (NOC) under the Ministry of Industry, Commerce and Supplies (MoICS) informed that the APS would be enforced in petrol, diesel and cooking gas.
According to Madhu Kumar Marasini, the Secretary at the Ministry of Industry, Commerce, and Supplies, the decision to decrease the prices of diesel, kerosene, and petrol was made during a meeting of the NOC's board of directors on Sunday. This decision was taken with the best interests of the consumers in mind, he said.
Under the recently implemented automatic price system, the corporation has set the prices of diesel and petrol while keeping a profit margin of 2 per cent on diesel and 2.5 per cent on petrol.
Marasini expressed his confidence that the general public and entrepreneurs would get some relief from this decision. The decision, however, would not be applied to the price of aviation fuel.
According to the APS, the retail price of petrol has been slashed by Rs 6 per litre, diesel by Rs 4 per litre and Rs 10 per LPG gas cylinder.
With the APS in place, the new price of petrol is Rs 164 per litre while diesel is priced at Rs 164 per litre in the Kathmandu valley. The price of these two petroleum products, however, could vary in other places, according to the Ministry.
The new price of one LPG cylinder has come down to Rs 1,700 from Rs 1,800, it was shared.
The APS was brought into effect after the NOC made a due payment of Rs 31 billion to the Indian Oil Corporation, it was informed.
Similarly, out of the Rs 7 billion loan obtained by the NOC from the government of Nepal last year, Rs 3.5 billion is due. It still has a debt of Rs 29 billion in total, it was briefed.
The post Government revives automatic pricing system for petroleum products after a 9-year hiatus appeared first on OnlineKhabar English News.