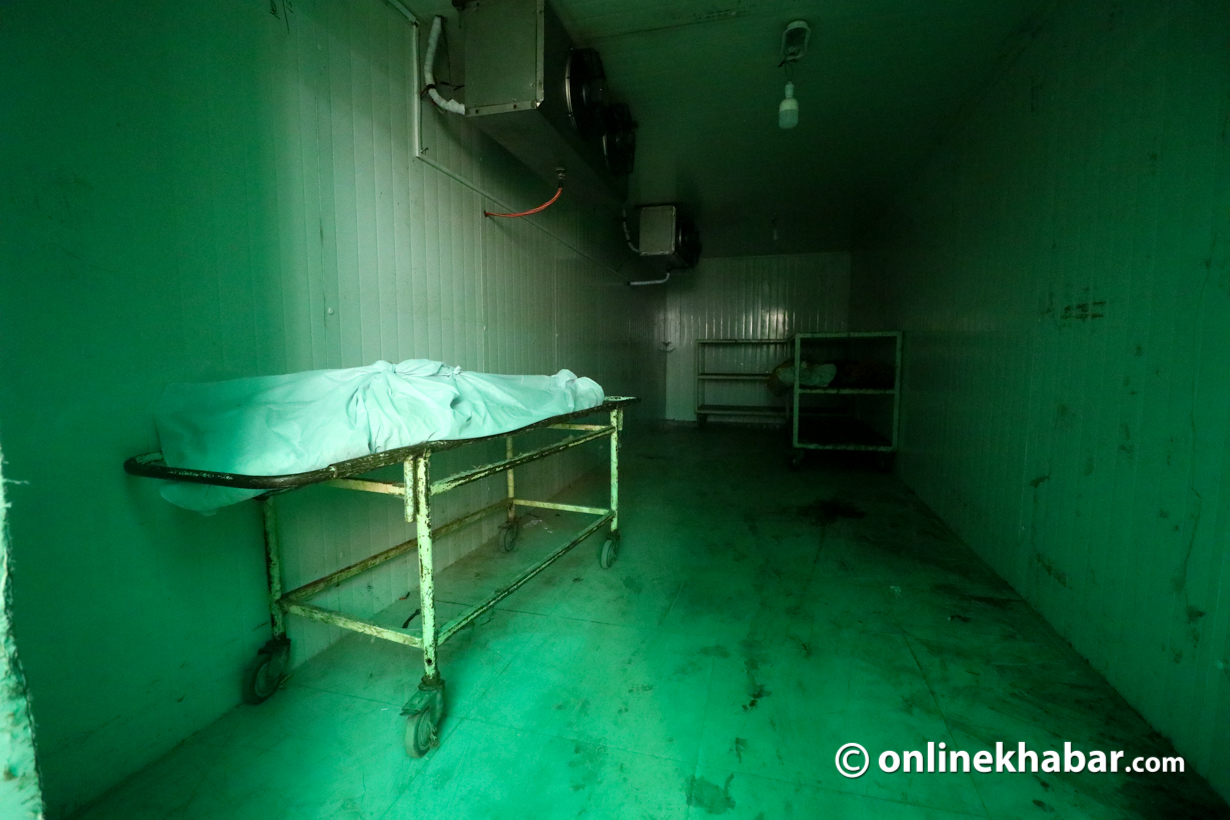 Upon entering the morgue, you immediately notice a distinct smell that makes you take a step back. Broken stretchers are piled on top of each other and the floor is covered with blood. As you make your way through the passage, you come across dead bodies placed on stretchers. The body is in an abandoned condition, with only the skeleton remaining.
This scene is from the Department of Forensic Medicine (DoFM) under the Tribhuvan University Teaching Hospital (TUTH) Institute of Medicine located in Maharajgunj. Adjacent to the passage is the morgue's cold room, where there is a large fridge at a sub-zero temperature, where the corpses brought for post-mortem are kept to prevent further decomposition.
After the post-mortem, the identified bodies are handed over to relatives. However, the unidentified and unclaimed corpses continue to be kept in the 'cold room'. 
Upon our arrival at the Teaching Hospital on July 3, the bodies were placed in a cold room, piled on top of each other. Each body has a tag attached to it for easy identification. Some of the dead bodies are placed on tables, while the majority are just lying on the floor.
Experts say it is not appropriate to keep dead bodies like that. There is a proper procedure to be followed to store these bodies, including washing and wrapping the bodies in clean cloth after the post-mortem examination and placing them in separate bags. It is crucial to ensure that the bodies do not come into contact with each other, in an organised way, inside a cold room.
They further say in case the next of kin is not identified or if they do not search for the body, the authorities should take responsibility to cremate them. This is important because at any given time if anyone comes forward to claim the body, they can do the identification, and give the organs back to them when requested. Such incidents were recorded following the 2015 earthquake.
The morgue at Teaching Hospital has a large number of unclaimed dead bodies stored haphazardly. This raises questions about the basic principles of respect and dignity that every individual deserves, as well as the responsibilities of both society and the government in upholding these values.
No one to live for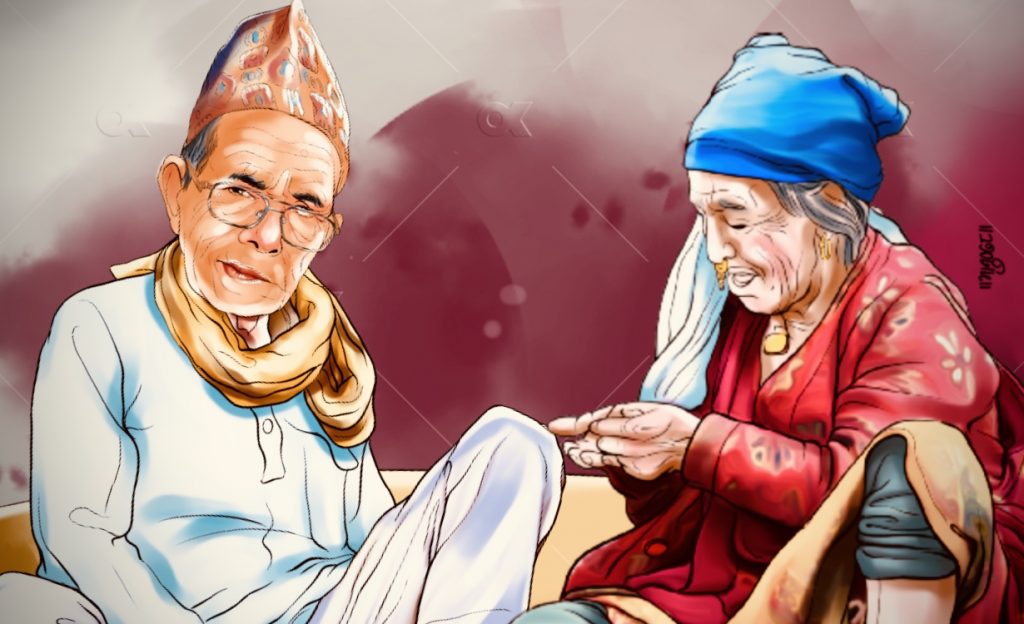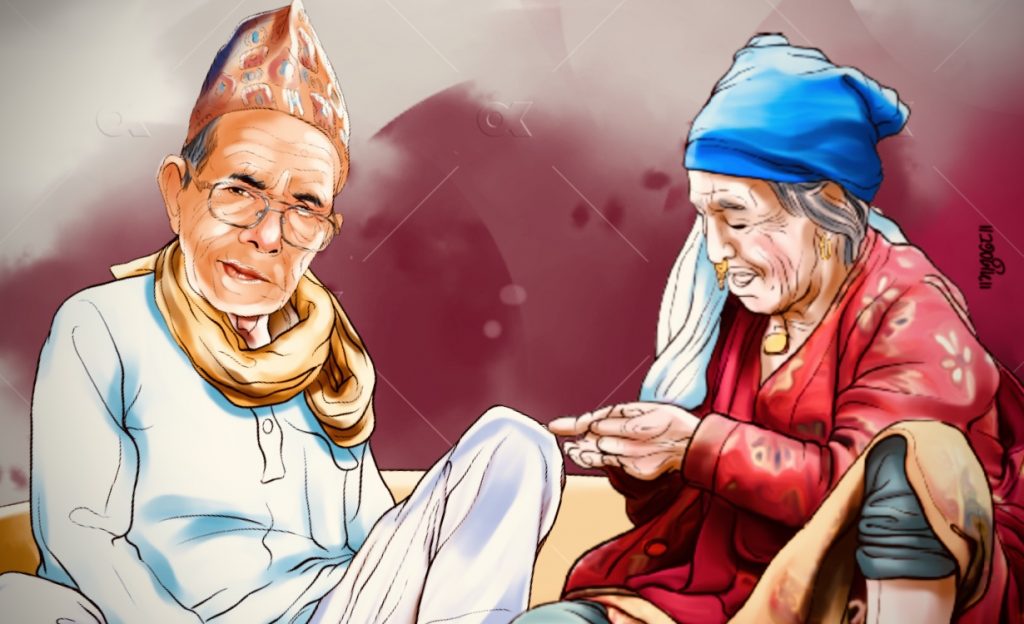 In 2022, a man in his 40s–living on the streets, begging–was found unconscious. He was taken to Patan Academy of Health Sciences (PAHS) by Metropolitan Police Range, Jawalakhel, where he was declared dead. In the autopsy, it was deduced that he died due to liver damage caused by excessive alcohol consumption. 
The hospital and police tried to locate his relatives but his body remained unclaimed. After three months of the body being unclaimed, it was handed it over to the police, who then took it to Pashupati Aryaghat.
During the lockdown, businesses were closed, leaving many without a source of living. Various organisations, including the Homeless Management and Rehabilitation Centre in the Pashupati area, provided meals to those in need. A man in his early 50s frequented the centre for meals. Tragically, he passed away in his sleep one night. 
The Gaushala Police Circle took his body to Teaching Hospital in Maharajgunj for a post-mortem, which revealed he died of natural causes, As he remained unidentified for months, social worker Sapana Roka Magar took it upon herself to conduct his final rites and bid him farewell.
No place to call 'home'
Most of the unidentified people are homeless and abandoned. They resort to living on the streets and seeking shelter in temples. Losing connections with their relatives, they have become orphaned in a sense.
According to Prof Dr Madhu Sudan Subedi, Coordinator of the School of Public Health at the Patan Academy of Health Sciences, poverty is the primary cause of homelessness.
"People are dying of hunger on the streets, lacking access to food and healthcare. Are our families, society, and the country responsible for this situation or not? We still need to think about the gap we have," says Subedi.
Many homeless individuals, particularly those from privileged backgrounds, end up on the streets due to substance abuse, such as drug and alcohol addiction. This leads to strained family relationships, making it difficult for their families to bring them back into a stable environment.
According to Dr Gopal Kumar Chaudhary, Head of the DoFM, abandoned corpses usually exhibit these similar characteristics. Firstly, they beg for food in temples and/or on the streets. Secondly, even if the identity of a relatively affluent individual is established, no relatives come forward to claim them. Lastly, some individuals leave the hospital while still undergoing treatment.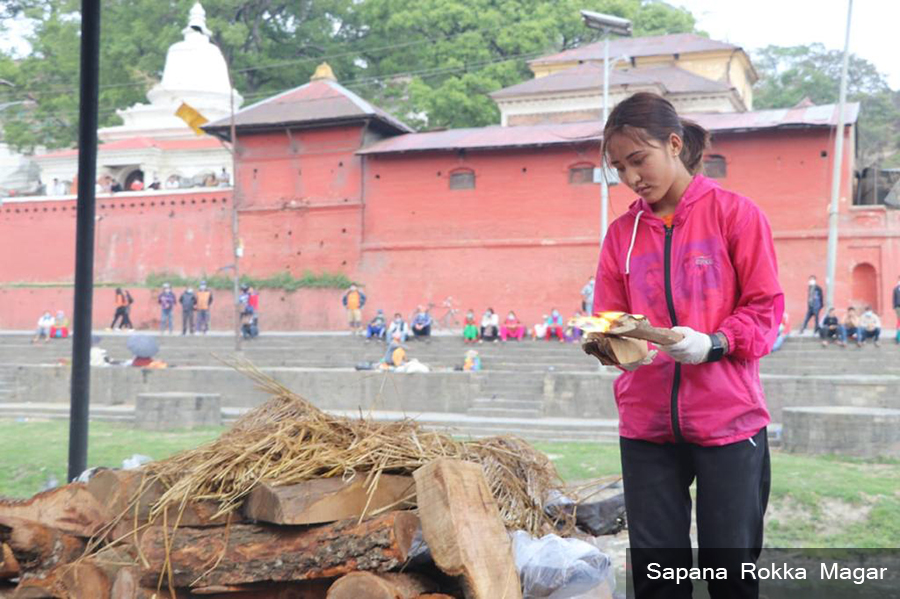 Sapana Roka Magar also reveals that despite some individuals being identified, individuals from privileged backgrounds refuse to acknowledge them.
"The deceased might be spending years begging on the streets. But the families do not care about their state. They think why seek the whereabouts of the deceased if they could not be 'family' when they were alive," says Magar.
In recent times, a growing number of elderly have been abandoned by their children who are abroad. These people who have been abandoned end up on the street and face organ failures and die on the roads or around the forest. Even if some do make their way to a hospital, lack of care often leads to their untimely demise. 
Some end up on the street due to marital problems or family conflicts. They too take refuge in temples or monasteries but end up dying alone and in pain.
Magar also adds that children who are abroad also have requested to cremate their parents who are in Nepal. "In the last four years alone, more than 50 people have put such requests to her," she adds.
The fatal number
According to the data of the Nepal Police headquarters, more than 300 unidentified bodies are recorded in the country every year. 
Looking at the data of the last four years, the number is only increasing. In the financial year 2019/20, 299 bodies were found while it was 348 bodies in the fiscal year 2020/21 and 377 in 2021/22. In the current fiscal year 2022/23 (mid-June), 318 bodies have been found.
The majority of unclaimed dead bodies were found in the Bagmati province. Based on the data from the current financial year, 120 dead bodies were discovered in Bagmati province, 70 in Madhesh, 57 in Lumbini, and 50 in Gandaki. Additionally, 18 dead bodies were found in Koshi, and three in Sudurpaschim province.
The majority of the unclaimed bodies found were of men. In the four years, the bodies were of 1,037 men and 234 women, with 21 boys and 16 girls and 60 skeletons. The bodies range from 40 to 60 years of age. 
The major cause of death recorded was liver failure followed by lung, heart and kidney failures. Chaudhary explains that these bodies have signs of excessive alcohol consumption that leads to bodily swelling, a yellowish appearance and infections.
Working in the Forensic Department of PAHS Dr Srijan Kunwar says, during the winter the number of unclaimed bodies increases. "The cold weather is the main contributing factor of deaths recorded during this time. Most of these cases involve individuals who have passed away due to pneumonia caused by lung infections. While, in some instances, the precise cause of death cannot be determined."
No physical infrastructure for storage
In Nepal, only TU's Teaching Hospital has a cold room for long-term storage of dead bodies. It can store up to 100 corpses at a time, sometimes exceeding its capacity.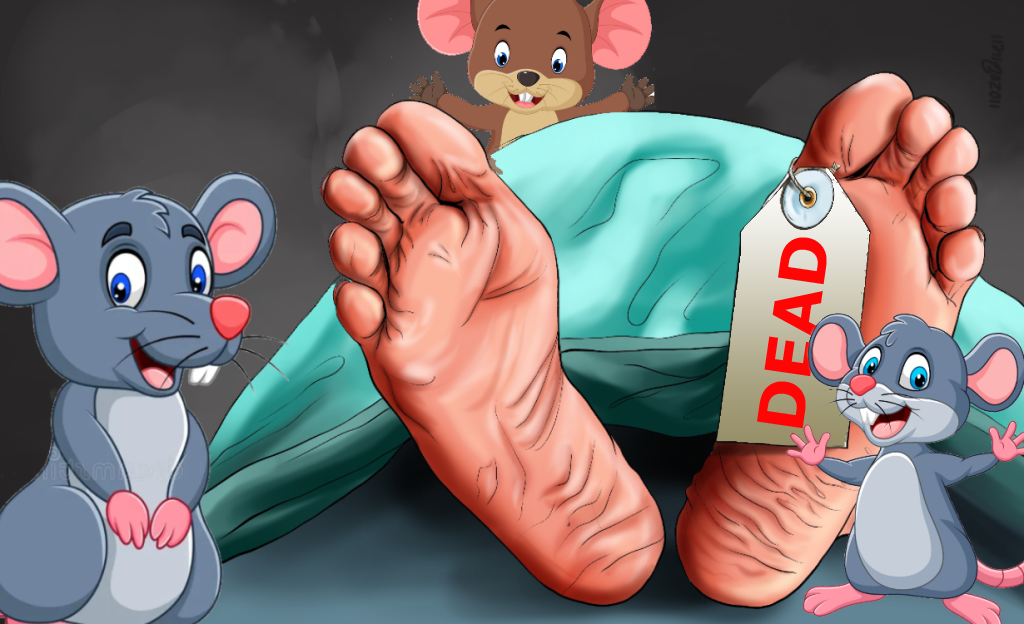 Some central and provincial hospitals have refrigerators, but they can only accommodate up to five dead bodies at a time.
According to forensic expert Dr Harihar Wasti, the decay of bodies on university premises following a major earthquake in 2015 brought attention to the lack of interest shown by the Ministry of Health and Population in constructing appropriate refrigeration facilities. It was only when the bodies started decomposing that the International Red Cross (ICRC) intervened and constructed a new cold room.
There were instances when corpses were carelessly piled on top of each other, resulting in rats eating the dead body's ears, eyes, and nose. Recalling those days Dr Wasti recalls how they would spread a putrid odour throughout the hospital premises.
In recent days, some hospitals have one or two refrigerators that can hold five to seven bodies, but the government is still neglecting the construction of quality physical infrastructure, he says.
Despite that, Chaudhary adds that over 2,000 dead bodies undergo post-mortem examinations annually, including approximately 100 abandoned corpses. A new body means more concern about where to keep it.
"Sometimes, we have to wait for several months to see if any relatives come forward," he says. 
There is a sense of sadness that the lack of modern equipment including insufficient racks and stretchers, hinders the ability to fulfil expectations and provide dignified storage as well as burials for the deceased. 
In case of the abandoned corpse, once bodies are found, the police transport them to the nearest post-mortem hospital. But Dr Chaudhary explains that all abandoned bodies from Kathmandu are brought to the facility by the police. TUTH alone receives approximately 80 to 100 abandoned dead bodies each year.
Additionally, since it is a teaching hospital, they also take about 25 to 30 abandoned corpses from the cold room for teaching purposes. Usually, the consent of the family or next of kin is required before they use it for educational purposes, but this process is not completed in terms of the unclaimed dead bodies.
Meanwhile, PAHS receives around 10 to 15 abandoned bodies every three months. However, their refrigerator can only accommodate eight bodies at a time due to capacity limitations. Hence, Dr Kunwar says, they also suffer the overwhelming unpleasant smell and they are compelled to coordinate with the metropolitan office or the police to arrange for the cremation of those bodies.
Even the dead deserve respect
Before 1993, the Nepal Police managed corpses carelessly. The cremation was done at the government's expense. The police only investigated cases that they deemed necessary. Other corpses were being cremated under the directives regarding abandoned corpses under the Police Act, of 1955.
With the establishment of medical colleges after 1993, there was an increased demand for corpses for educational purposes. The Police Act was subsequently amended to allow nearby medical colleges to request bodies.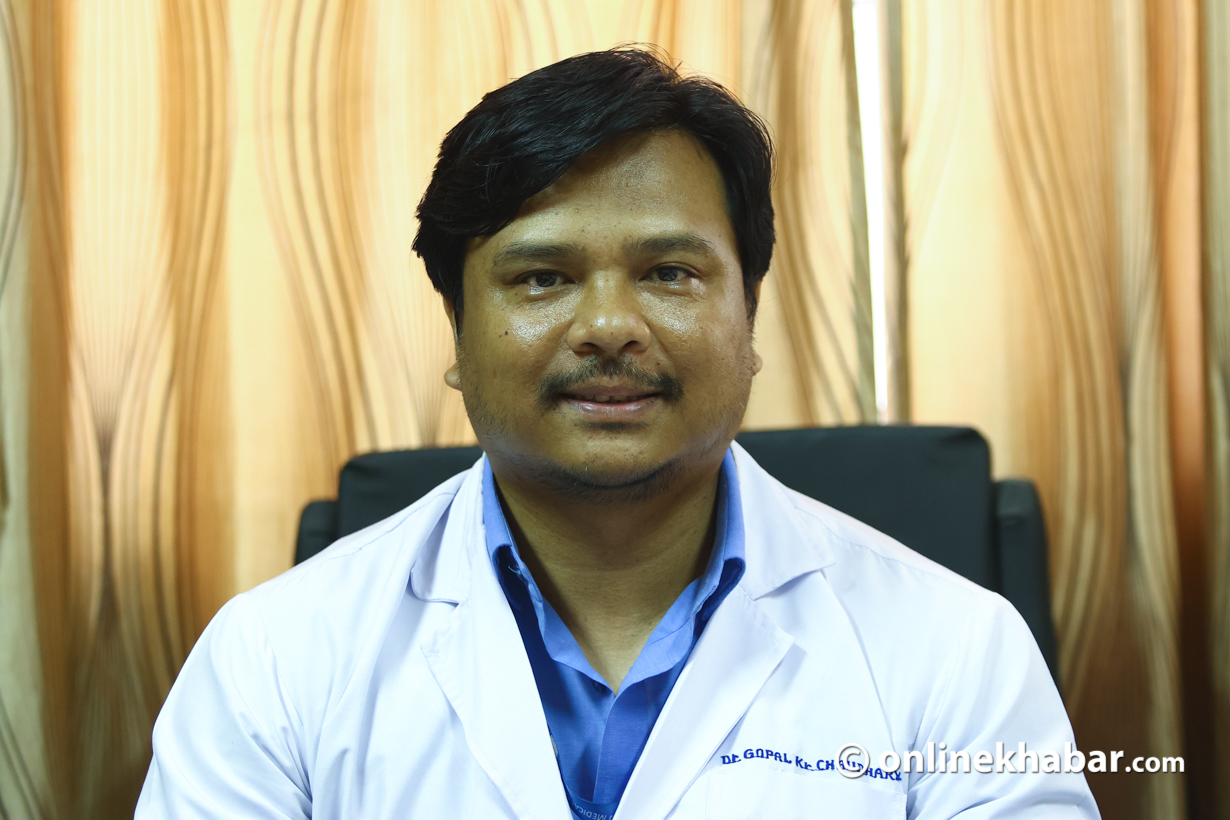 In 2021, the government issued a guideline for proper management of unidentified or neglected dead bodies, improving the situation. However, its implementation remains incomplete. As per the guidelines, when an unidentified and abandoned dead body is found, local police should keep it safe with proper management and inform the relevant local authorities and representatives. A report should be filed in the presence of local representatives, and if possible, citizens, before the body undergoes a post-mortem. 
The guidelines suggest that these bodies should be safely preserved for up to 12 years following international standards. However, the current practice of haphazardly cremating the dead bodies disregards these guidelines and it is against the law, says Wasti.
The guidelines have made it clear that the dead should be buried. According to him, the body is the family's property. If no relatives come to claim it, it is the government's property of the state.
He says, "Even after death, the body still has some rights. If a relative comes to collect the body after years, the authorities should be able to provide it. That is why arrangements need to be made to bury it, and not cremate it."
The corpses of 33 individuals, including two Italians who died in the 2015 earthquake, were initially buried in the university TUTH premises for future identification purposes. Despite being reduced to skeletons, they were later recognised and returned to their relatives. 
However, the local corpses are termed "abandoned" and they lack the respect they deserve. Medical experts emphasise the importance of properly washing, wrapping and storing bodies after autopsy. If no relatives claim them, they should be buried while still in a body bag.
But the treatment of dead bodies is deeply concerning. They are kept naked and stacked on top of each other, lacking the respect and dignity they deserve. This is disgraceful treatment by the authorities, says Magar. Dr Kunwar also agrees that the government is failing to manage abandoned dead bodies with sensitivity and respect. 
---
This story was translated from the original Nepali version and edited for clarity and length.
The post Unattended and neglected: Nepal's struggle with managing dead bodies appeared first on OnlineKhabar English News.