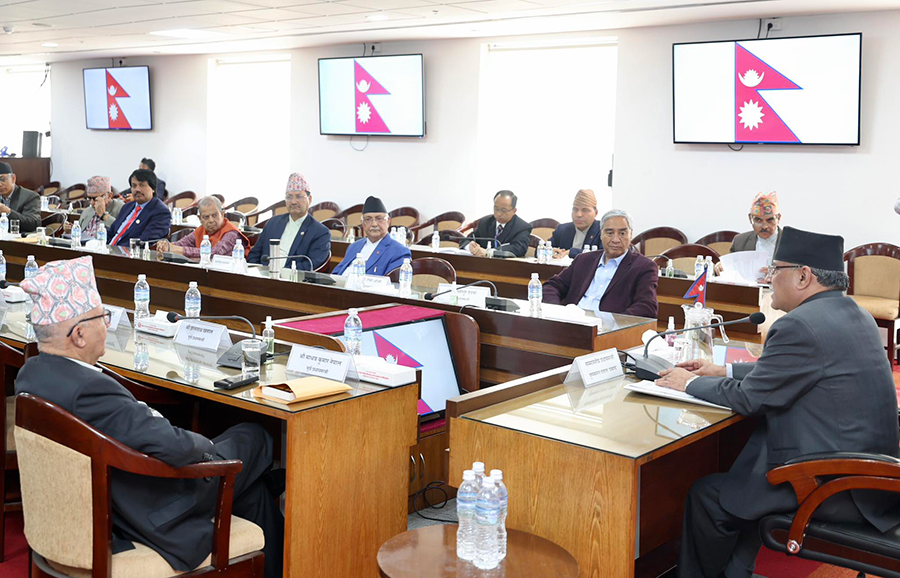 Kathmandu, September 10
Prime Minister Pushpa Kamal Dahal on Sunday held a high-level meeting with major political leaders in the run-up to his visit to the United States of America to attend the United Nations General Assembly (UNGA) and subsequent visit to China.
In the discussions held at the Office of the Prime Minister and Council of Ministers in Singhadarbar, Dahal was advised to prioritise the establishment of balanced diplomatic ties with the neighbours, to review the implementation status of agreements, to pay heed to security affairs of mutual concerns, and to promote Nepal's non-aligned foreign policy. Furthermore, Dahal was encouraged to thoroughly prepare in order to maximize the benefits from the visit.
Leaders of national parties, top political leaders, former prime ministers and former foreign ministers were present at the meeting.
In the meeting, Dahal was assertive that his China visit would remain productive and the government was making necessary preparations for making the trip successful. He said he hoped to get the right suggestions for making the visit effective.
Dahal highlighted the government's dedication to maintaining balanced relations with Nepal's neighbouring countries and the global community. He reiterated the commitment to a policy of non-alignment. Dahal also expressed Nepal's intention to showcase its development initiatives, address the challenges of climate change, underscore ongoing peace efforts, and highlight other current issues. He called for collective global efforts in these areas.
He informed the meeting that he had chosen to proceed directly to China from the US following his participation in the UN mega event. This decision came after thorough consultations at the diplomatic level.
The China visit will focus on further strengthening Nepal-China relations and issues of bilateral interests," he said.
The post Prime Minister Pushpa Kamal Dahal meets major political leaders ahead of US and China visits appeared first on OnlineKhabar English News.