Introduction
The Sustainable Development Goals (SDGs) constitute a comprehensive framework of 17 interconnected objectives that serve as a global roadmap for achieving prosperity and sustainability.  It emphasizes the interlinked environmental, social, and economic aspects of development by placing sustainability at its core.
Ahead of the 2023 Sustainable Development Goals Summit being held at the United Nations Headquarters in New York on September 18, National Planning Commission (NPC), Government of Nepal, and the United Nations in Nepal, jointly held the Sustainable Development Goals Acceleration Visioning workshop on August 16, 2023. The agenda of this workshop was to review Nepal's progress and outline its commitment to achieving each of the SDGs before the stipulated year 2030. Alongside, it aimed to filter areas where a strategic roadmap is required to accelerate goal attainment.
In accordance with that pursuit, the concerned bodies are working to launch a nationwide campaign encompassing multiple stakeholder groups including central provincial and local government, private entities, the civil sector, and development partners to achieve the 17 goals before 2030.
Status of SDGs in Nepal 2023 
The Government of Nepal has internalized the Sustainable Development Goals (SDGs) in its central and local plans for instance, through the state's 15-year plan strategy and its sporadic provincial targets. Nepal boasts a score of 66.5 and ranks 99 out of 166 countries on the comparative basis of its progress. The score can be interpreted as a percentage of SDG completion where a score of 100 indicates all SDGs have been attained. Thus, it illustrates that Nepal has 33.5% of the SDGs to complete in less than a decade. Notably, Nepal has fully achieved two of the 17 SDGs: SDG12 (Responsible Consumption and Production) and SDG13 (Climate Action) but are stagnant in recent trend data which is to be cautious of. Nepal is exempted from SDG14 'Life below Water' due to its landlocked geography.
Figure 1: SDG dashboard and trend indicators on Nepal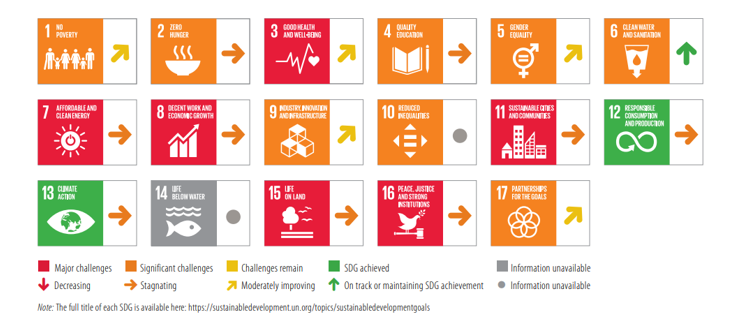 Source: Nepal, Country profile, Sustainable Development Report.
Required Changes
Nepal's 66.5% progress seems promising when compared to the global progress of 12%. Albeit this, it still faces considerable challenges as highlighted by its trend indicators which reveal only 23.4% of the SDGs being on track or achieved and 29.7% of it further declining. Most of these goals have been declared unmoving or merely improving in recent data (46.9%) except SDG6 which ensures the facilitation of clean drinking water and sanitation. SDG6 has proven to be on track to be a completed goal as records show that 90% of Nepal have access to clean drinking water and a whopping 99% have basic sanitation covered.
Areas where Nepal needs to make substantial progress to achieve the SDGs before the deadline include indicators showing degrading performance. These goals pose significant challenges and shall be prioritized to prevent further declines in the overall score. For example, in relation to SDG3 (Good Health and Well-being), the indicator reflecting the probability of death between the ages of 30-70 from cardiovascular diseases, cancer, diabetes, or chronic respiratory diseases is deteriorating in performance. Addressing this indicator shall be a focal point to raise the overall score of the goal. Similarly, to ensure SDG16 (Peace, Justice, and Strong Institutions) remains on track, special attention shall be given to press freedom and the timeliness of administrative proceedings due to their declining trends.
Efforts to accelerate progress must target indicators that remain unchanged or show minimal improvement to raise the overall score. The conflicting status of these indicators hinders the achievement of the goals. This challenge is evident in SDG1 (No Poverty), where slow growth in the second indicator (poverty headcount at $3.65/day) limits the overall goal's achievement, despite the first indicator (poverty headcount at $2.15/day) being on track. Similarly, the declining rate of enrollment in pre-primary organized learning is the primary obstacle to SDG4's (Quality Education) completion, dragging down other indicators and the overall score. Positively, the individual indicators and their loopholes can act as a directive towards a fitting policy to support its improvement.
Underlying challenges
Nepal's struggle to ensure success of the SDGs is rooted from factors including inadequate allocation of financial resources to specific sectors, failure to effectively localize plans and resources, social and geographical disparities in development, and persisting political instability impeding effective decision-making.
The National Planning Commission (NPC) estimates a minimum annual budget of NPR 1.1 trillion (USD 8.27 billion) from the government alone to achieve the targets within the 2016-2030 timeframe. Despite this, Nepal faces an annual funding shortfall of approximately NPR 500 million (USD 3 million), with the current fiscal year (2023/24) budget allocating a mere NPR 400 million (USD 3.76 million) for SDG implementation, far from sufficient to meet the goals within the timeframe. The lack of partnerships exacerbates this issue, as securing and financing funding gaps remains a significant challenge. Reports indicate that the required funding must come from various sources: 54.8% from the public sector, 36.5% from the private sector, 4.4% from households, and 4.3% from cooperatives and non-governmental sectors, all of which are currently lacking.
Figure 2: Annual average investment requirement for SDG implementation.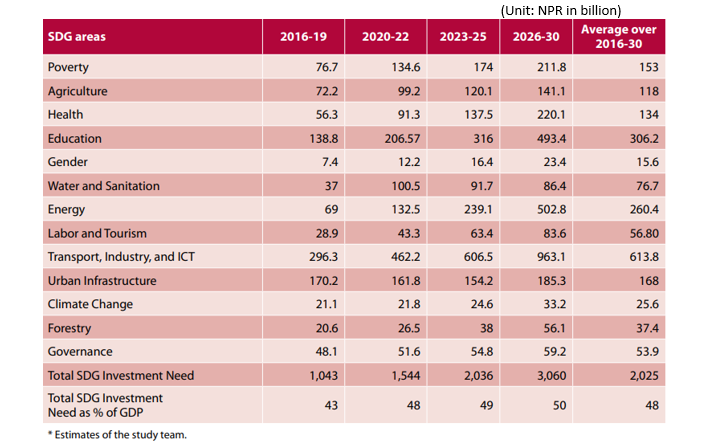 (Unit: NPR in billion)
Source: Needs Assessment, Costing and Financing Strategy for Sustainable Development Goals, National Planning Commission, Government of Nepal
A macroeconomic concern faced by Nepal currently is the sluggish economic growth and activity fueled by the tight monetary policy to curb inflation and trade deficit. The forecasted economic growth rate of 2.46% for FY 2023/24 makes the hope of better resource allocation towards SDGs seem highly unlikely. The lack of projected revenue makes it difficult to allocate needed injections.
The visioning workshop also identified the localization of goals and strategies as a critical factor in SDG completion. Nepal has struggled to implement plans effectively at the grassroots level, where they can have the most impact, and to partner with key agencies to achieve the goals. This has resulted in the absence of a robust progress monitoring system, evident in the 3% missing data in Nepal's SDG index.
Way forward
The National Vision for SDG Acceleration, which will be prepared based on the outline coming from the consultative workshop on August 16, will be presented to the global leaders as proof of Nepal's renewed commitment at the upcoming 2023 SDG Summit. What Nepal needs for it to come close to achieving its goals before 2030 is a framework based on multi-source financing and an extensive partnership for specific goals and indicators. Due to the huge scale of needed investment and a time crunch, funds in the form of ODA (Official Development Assistance), public and private financing, and sector-specific policy-driven intervention are pivotal. For instance, to enable the agricultural sector, a combination of infrastructure investment, fiscal transfers in the form of subsidies, and private sector support in the form of insurance and microfinancing is recommended. The central government can partner with the local and provincial government, private sector, cooperatives, and international organizations in SDG financing and localization while working towards eradicating geographical and social disparities. A result-based monitoring and evaluating system can be made integral to keep track of progress and implementation and most of all, macroeconomic policies might be reoriented to be more inclusive, sustainable, indifferent to global shocks, and followed by a paced structural transformation.