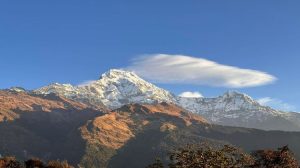 The Poon hill and Mardi Himal trek is an adventure around the Annapurna region of Nepal. These famous trekking locations are nearby the beautiful city of Pokhara. This trek takes you to two popular destinations: Poon hill and Mardi Himal of the Annapurna range at once.
Poon hill is a famous viewing spot of the Annapurna region atop the Ghorepani village. It lies at an altitude of 3193 meters, around 36 km, near Pokhara. The poon hill viewpoint is the best point of the Ghorepani Poonhill trek.
After reaching Poon Hill, we head for Mardi Himal base camp. Mardi Himal is a small mountain near the Machhapuchhre (Fishtail) Himal. This trek takes you up to 4500 meters up to the base camp. Upper and lower viewpoints will be the best viewing spot of the trek from where you will get to see the Annapurna Sout, Annapurna I, II, Himchuli, Machhapuchhre, Mardi, Ganga Purna, Pisang Peak, Singu Chuli and many more Mountains. Badal danda is also famous for the viewpoint where you get to see the clouds covering the mountains in a very unique way.
Poon hill and Mardi are suitable places climate-wise and very convenient spots to trek. The elevation of the trails is mostly lower than 3500 meters making it less prone to risks of altitude sickness. Moreover, it is suitable for people of all ages, making it an option for novice trekkers.
The trek gives you mesmerizing panoramic views of the mountain ranges of the Annapurna. Mountains like Dhaulagiri, Machhapuchhre, and Annapurna range Himalayas, are beautifully visible.
You can complete the poon hill and Mardi Himal trek with only moderate strength. It is suitable for people of various ages and is the best way to experience the Annapurna region.
We at adventure great Himalya bring you a 12-day itinerary of this trek. We have a carefully curated itinerary to make your Poon hill and Mardi Himal trek a wonderful experience.
Trek highlights
Traveling to scenic places like Badal danda, Poon hill view point, Mardi base camp, and high camp,
Trek through diverse land forms of Nepal, including dense jungles to Himalayan foothills,
Travel to the rarely explored areas of Mardi Himal trekking trails,
Walk through diverse trekking trails with a beautiful view every step of the way,
Get immensely beautiful sunrise and sunset views from Poon Hill viewpoint,
Travel to the villages of Ulleri, Ghorepani, Tadapani, and Ladruk, with unique settlements of diverse ethnic groups,
Pass through landforms like rivers and waterfalls and observe the rice terrace farming of Nepali hills,
Vistas of mountain ranges like Manaslu, Dhaulagiri, Machhapuchhre, Annapurna south, Dhaulagiri, Annapurna I, and other Himalayas.
Best time for the Poon hill and Mardi Himal trek
The best times for trek in Nepal are usually months that fall during the autumn and spring. The same applies to Poon hill and the Mardi Himal trek too. Many trekking trails in Nepal have limited suitable time for trekking. But the Poon hill and Mardi Himal trek have a wider time frame for the best trekking experience.
In spring time, the best trekking experience occurs from late March to late May. The spring season brings a beautiful, vibrant and refreshing environment. The trekking trails will have beautiful flowers blooming and vibrant green vegetation. The weather will be quite stable, with few chances of snowfall or rainfall. Hence, the trekking trails will be dry and easier to approach.
The average springtime temperature will be 10 degrees Celsius to 24 degrees Celsius. The skies will be clear, resulting in beautiful unobstructed vistas of the Himalayas.
The autumn and early winter months, on the other hand, are also another best time for this trek. The best months during the chiller part of the year would be mid-October to the end of December. 
The autumn months give you dry and temperate weather with dry trekking trails. You will find a quaint environment with dry brown leaves crunching beneath your feet. The temperature ranges from 0 degrees Celsius to 20 degrees Celsius. There are fewer chances of rainfall, so you will get cloud-free skies and beautiful vistas.
The winter time, from late November to late December, also accounts for a good trekking time. This is because the Annapurna region becomes mesmerizing this time. The trails will be quieter, with chilly winds and mesmerizing mountain views. You might also experience light snowfall, which will be less of a hassle and more of an enchanting experience.
The post Poon Hill And Mardi Himal Trek appeared first on Adventure Great Himalaya.